News
BROOKE HOSPITAL FOR ANIMALS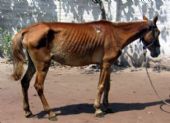 Horses, donkeys and mules working in poor places overseas face very tough lives. Lives all too often made unbearable by preventable sickness or injury.
Brooke Hospitals, dedicated teams offer free treatment to sick or injured working horses, donkeys or mules, in the poor communities where they work. Relief from pain is always their first priority.
Visit their web site and let your heart speak! http://www.thebrooke.org
We supports Brooke Hospital for Animals, You will too?
More news